My first love.
I skipped
Chimerikal's
Grad-itude 101 link-up last week to ramble about god knows what instead, so it seemed fitting to come back this week for a little positivity and thankfulness. I know, positivity.. what? I'll go catch up on Nashville after this and make bitchy comments about the direction the show has gone in to balance it all out.
Last time
around
, I devoted the post to thanking all those in my life who I don't always show enough appreciation for, so this time I'm sticking to everyday things that put me in a good mood and make me more pleasant to be around.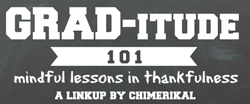 So what am I grateful for this week?
--Well I never thought I'd say this, but
Jillian Michaels
.
YES, MA'AM. (via)
I switched from the Skinny Bitch workout to Michaels' 30 Day Shred and not only is it just a 20-minute exercise, but I feel
way
more worked out after it than after the nearly hour-and-a-half routine the skinny bitch ladies lead.
While their workout is broken into four 20-minute parts, none of them are hard enough on their own, so you feel like you have to do them all each time and even then it's not that hard.
So thanks, Jillian, for making me want to die.
--
Champagne
. Or as Heather likes to say, CHAMPS!
I don't actually love champagne, but I'm drinking it now to celebrate my mom's new job. So it's fabulous. Bonus points for you if you drink your champagne all classy with a slice of fruit inside.
--
The Walking Dead
. My boyfriend finally got me into the show and we just marathoned the last season in preparation for this Sunday.
I'm 100 percent over zombies (only second to vampires), but for them I'll make an exception. Oh and also I did this today.
Thanks, Picmonkey, for hours of my life wasted.
--Apparently, gifs.
Also:
--
My boyfriend having a good interview yesterday
. Fingers crossed.
--
Phones with internet to entertain myself in the car while boyfriends go on interviews.
--
Beauty tutorials
. Thank you for helping me be a better woman. I've learned how to french and dutch braid my hair, how to get nice relaxed curls, how to do the cat-eye and 5 million other things.
--
Fruity, fall beers.
--
Funny/impossibly clever blog posts that desperately make me wish I had written them myself.
What about you? What are you grateful for this week?