I'm linking up today with Helene at
Helene in Between
for a post on all of the songs that define
me.
Okay, obviously not all of the songs. You don't need to hear about my love for "Total Eclipse of the Heart." But maybe like six or so songs that have meant something to me?

It's too hard to pick just one, so I won't! Instead, I've decided to choose one song to represent me at the different stages in my life, starting when I was 10.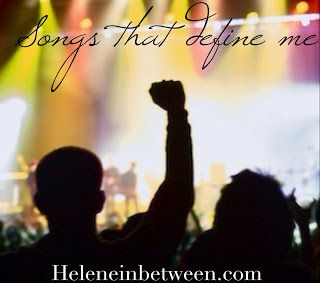 10 and under:
As if this category could belong to anybody but the great Celine Dion. Her "Falling Into You" album has been played so many times by my sister and I that we should remember the lyrics to every song for the rest of our lives.
"It's All Coming Back to Me Now" in particular is five hours long and worth every second of it.
Runners up: Bonnie Raitt's "Have a Heart" and Amy Grant's "Galileo."
Tween years:
I think I ended up liking *Nsync better than the Backstreet Boys once "Bye Bye Bye" rolled around, but prior to that I was first and foremost a Backstreet Bitch, which is coincidentally what I had stitched onto the back of my jean jacket in rhinestones. (Oh, if only I had been so cool).
Before Millennium, I guess I was still too busy warbling along to Celine to notice the BSB, so it took "I Want it That Way" for me to fangirl all over them.
Which one did I like? K.Rich of course. That's what we fans call him, right? Followed by Brian and then no one else. Sorry Howie, Nick and AJ. You're just not my type.
Runners Up: Spice Girls "Wannabe" (sorry, ladies, female solidarity won't get you past grown men who synchronize their outfits)
High school:
Gwen Stefani and her fuchsia fucking hair. I thought she was so hot and I always desperately wanted her and Tony to get back together. Why? Because clearly it had some kind of effect on my life.
Return of Saturn was probably my favorite album throughout all of high school, though I think Rock Steady came out my freshman year. And I still love No Doubt though I couldn't tell you what their latest single is and or how it even goes. But I could sing "Simple Kind of Life" to you, if, I mean, you wanted me to.
Runners up: Vanessa Carlton's "Pretty Baby" (I recognize her overly earnest lyrics from Be Not Nobody--ugh that title!--now, but, when I was a teen? God, I thought she was wise).
College:
This is the period when I started realizing there is other music besides top 40 radio (no, I never claimed to be a cool, music person). And it's when I fell in love with Jenny Lewis and her razor-sharp cheekbones. Seriously, look at them:
I found "Rise Up With Fists!" (and by "found," I mean it was on a list of new videos on MTV's website) around the same time I was discovering Rilo Kiley, the band she fronts, and I listened to their album More Adventurous on repeat for months. MONTHS.
I love her and everything she touches.
Runners up: Regina Spektor's "Samson"
Twenties:
It's hard to pick the best Avett Brothers song, but "Head Full of Doubt/Road Full of Promise" has to be one of them. Seeing them at Red Rocks here in Colorado was a definite check off my bucket list. They also represent my newish found appreciation for folksy music and definitely represent my maturing tastes.
My overall favorite album of theirs is Emotionalism, which features my other favorite song, "Shame," but I and Love and You is definitely in my top three albums of theirs.
And I guess that's basically my life in music, you know, minus the 5 million other songs I've listened to on repeat at some time or another.
What are the songs that define you?