This photo has literally nothing to do with this post. You're welcome.
It's Wednesday, which means it's time for the second
Gratitude 101: Mindful Lessons in Thankfulness
link-up by Erika of
Chimerikal
.
I've been a lazy SOB the past three days, so I'm all about getting back into, you know, actually updating this blog with a post about something positive like gratitude.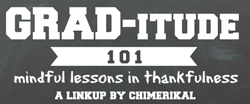 Last
week
, I wrote on some specific things I was grateful for, so this week, I'm going to mix it up by making a playlist of the songs that I listen to for a little, uh, pep in my step?
Be warned these are feel-good songs, not I'm-so-cool-I-know-this-song songs, so there will be Jewel and maybe even Celine Dion, I haven't decided yet. So, yes, what I'm saying is... prepare for it get hokey up in this post.
1. Dolly Parton's "Better Get to Livin'"
Favorite lyrics:
"A girlfriend came to my house/ Started cryin' on my shoulder Sunday evening/ She was spinning such a sad tale/ I could not believe the yarn that she was weaving/ So negative, the words she had to say/ I said, "if I had a violin, I'd play."

"I said you better get to livin'/ Givin'/ Be willin' and forgivin' 'Cause all healin' has to start with you/
You better stop whinin'/ Pinin'/ Get your dreams in line/ And just shine, design, refine/ Until they come true/ And you better get to livin'"
Dolly Parton's basically the wisest woman on earth, so I could probably use any of her songs, but this one's pretty self-explanatory.
Also, who wants to be that friend who is always whining about something or being super negative? If that's you, somebody's probably writing to an advice columnist right now asking what they should do about their "toxic" friend. And you know what? I don't want that to be me.
2.
Jewel's "Stronger Woman"
Favorite lyrics:
"Well from now on I'm going to be/ The kind of woman I'd want my daughter to be"
It's a short, but perfect sentiment. I want to be the type of woman I'd be proud to have for a daughter. Plus the song is all about realizing she
can do better than the life she's been living and the man she's been living it with, so it's got that whole ra-ra sisterhood element.
3. Sara Bareilles' "Brave"
Sample lyrics:
"You can be amazing/ You can turn a phrase into a weapon or a drug/ You can be the outcast/ Or be the backlash of somebody's lack of love/ Or you can start speaking up"
I sing to this song way too much by myself, alone in my car. That's all.
4. Alicia Keys' "Girl on Fire"
Favorite lyrics: "Looks like a girl, but she's a flame/ So bright, she can burn your eyes/ Better look the other way/ You can try but you'll never forget her name/ She's on top of the world/ Hottest of the hottest girls say"

Oh, we got our feet on the ground/ And we're burning it down/ Oh, got our head in the clouds/And we're not coming down"

Why is this on the list? Well, duh. Although, confession, I usually listen to the Glee version because I love Naya Rivera's voice (should "voice" be in quotes? You know how Glee producers love to autotune everything to death).
5. Mandy Moore's "I Could Break Your Heart Any Day of the Week"
Favorite lyrics: "I'll make this painless/ Try to be sweet/ I could break your heart any day of the week/ Squeeze life out of you/ Wrap you in sheets/ I could break your heart any day of the week"
Sometimes it's nice just to remind yourself that you're pretty hot shit.
6. Mika's "We Are Golden"
Favorite lyrics: "Teenage dreams in a teenage circus/ Running around like a clown on purpose/ Who gives a damn about the family you come from?/ No giving up when you're young and you want some"
Has Mika ever released anything that wasn't super catchy and infectious? (Sidenote: my boyfriend hates when his songs come on because they are so catchy and always get stuck in his head. But you know what? I'm pretty sure that's a good thing).
7. Diane Birch's "Don't Wait Up"
Favorite lyrics: "I looked at the clock and it was quarter to twelve/ I started counting the minutes to the freedom bell/ I said the midnight hour is gonna take me home/ And today's sorrow will be here no more"
This is the only one on the list I can't think of a description for. I just like it and I love Diane Birch. Enough said.
8. Gwyneth Paltrow's "Country Strong"
Favorite lyrics: "I know you see me like some wide eyed dreamer/ That just rolled in off up a dusty Midwest bus/ Yeah, on the outside I look fragile/ But on the inside is something you can't crush"
Here's the song where I pretend I'm country. I know it comes from that obnoxious period where Gwyneth Paltrow was everywhere singing, but I can't help liking it. It's also the only song I downloaded from that terrible movie.
And, of course, there's five million more songs I could put on this list. But, hey, look at that, I didn't end up using a Celine Dion song.
Any songs I should add to the list?