It's once again Wednesday and that makes it time for Grad-itude 101, a link-up by the wonderfully wise and fabulous Erika at Chimerikal.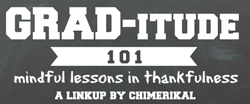 I've been thinking about what I wanted to include in this week's link-up and I realized that one of my goals for Monday's
Weekly Wishes
was to show my appreciation more for those around me.
SO, damnit, that's what I'LL DO.

To my mom: Thank you for, you know, letting Logan and me crash at your place. We're on the cusp of employment, I can just feel it.
And while we're at it, thank you for always teaching me to value my intelligence above anything else and showing me what it means to be a smart, independent career woman who gets it done. (Oh, and also thanks for encouraging me to have a more refined palate. I fight against it sometimes--like, no sorry, no thanks on the rabbit--but you have to admit I'm way better than I used to be).

To my dad: Thanks for paying for a new battery for my car last week. And thanks for the new tires last year. And basically all the maintenance before that.
And also thanks for always thinking I'm brilliant and bragging about my writing/grades/accomplishments to everyone. That's pretty nice. And, you know, thanks for giving me an appreciation for simple ingredients and how good just meat and potatoes can be.
To my sister: Thanks for being the intelligent, witty person you are who I can talk to about politics and also how annoying Caroline Manzo is. (it's a real Housewives reference, sorry).

Now that I've moved back to Colorado, I'm glad we can have regular evenings of wine-drinking + reality TV-watching, even though your dog is super annoying and sometimes I want to punch him.

Sister, sister.
To Logan:
Look, I just read this
article
with excerpts from Melissa Gorga's new book (another Housewives reference, sorry again), and her husband sounds awful. Like, horribly, beyond terrible, awful.
So you know what? Thank you for not having antiquated notions about gender roles and for identifying as a feminist. Thank you for not being possessive, overbearing or selfish and recognizing that a relationship is about two people and not just you and your wants.
And, of course, also thank you for your dry sense of humor that always makes me laugh and your thoughtfulness.
The glasses say hipster, the jacket says hippie.
To Crystal:
I'm so glad you're back in the States (selfish, I know, but I wish Rich could be back with you), so that we can have random phone calls anytime. Thank you for all your support (and it's been massive) with this blog and I'm glad you and
The Happy Type
are getting all the recognition you deserve.
Also, thanks for waiting to see Insidious 2 until we can see it together, even though I'm pretty sure it's killing us both.

This isn't from Halloween. This is how we always dress.
So what are you grateful for this week?