Why, yes, that is my dog in my school colors.
It's Wednesday! Which means it's the first day for Gratitude 101, a new weekly link-up created by the always astute Erika at
Chimerikal
.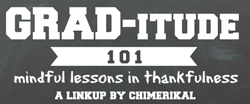 I'm excited for this link-up because I'm definitely more sarcastic than I am earnest, especially in my writing, so it may seem like I'm more of a pessimist than I am. But the reality is there are so many things and people for whom I am thankful and grateful, and it'll be nice to have a weekly reminder that I'm not totally cold-hearted.
So what are the things I'm grateful for this week?
Well I'm glad you asked!
My family:
Since I moved back home, I've had a lot of support from my family during my job search, including advice and wisdom I don't have yet. My mom has also been temporarily housing my boyfriend and me, so I'm sure she's getting pretty over that. Plus, it's been nice to hang out more in person with my sister who is one of my best friends and her adorable daughter. Thanks, family!
My boys: Who make me smile. Especially my boyfriend, who moved with me from Kansas and made the moving process so much easier since I don't have to waste time missing his ass back in Kansas.
Logan and Rollie. Yes, Rollie's a boy and I put him in a cheerleading costume. We're open like that.
But I can't play favorites, so also this boy:
Always lurking.




Wine: Ugh, I am going to sound like such a wino always talking about wine, but let's get real (like, um, the Real World?), there's nothing better than a glass of wine at night. Red or white, don't care, just don't make it sweet.
John Mayer: Yeah I said John Mayer. I've been listening to his Paradise Valley album on Spotify on repeat this week. Sorry Taylor Swift, but I maybe don't hate Paper Doll. And I definitely don't hate Badge and Gun.
My best friend:
Who has encouraged this blog from the very beginning and is finally back in the States. I don't text
her
as much as I should (facebook messaging is where it's at) because I forget I can actually do that now.
I'm also grateful for popcorn, cookies and cream ice cream and shea butter (I'll explain later).
What are you grateful for?